Join up and enjoy the benefits
By becoming a member of the WRCV you not only get to be part of a great club but your pointy nose friends get discounted entry to each race meet.  They also become eligible to participate in the competitive races and earn points for the end of season trophies.
Memberships are due for renewal at the first race meet of each season. If you join up later in the season you pay a reduced fee based on the number of race meets remaining for the year.
Membership Form
Click the image below to download a copy of the club membership form. Fill it out and bring it to the next race meet and we'll get you on board.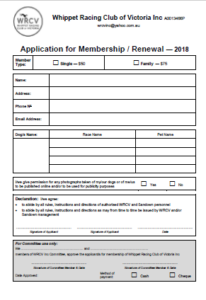 To find out when the next race meet is click the button below.